F.A.Q.'s
Q: What exactly is the hitch?
A: The hitch (receiver) is the part that is installed directly onto your vehicle to allow it to tow.


Q: How do I know what my ball height should be?
A: The trailer should be level, measure from the ground to the top of the coupler to get a correct ball height. Most common ball heights are between 17" and 19".

Q: What is a ball mount?
A: A ball mount is the piece that slides into the hitch on your vehicle and holds the ball.


Q:What is the main cause for lights not working?
A:Bad Ground Connection.

Q: What is a coupler?
A: The coupler is the part that is welded or bolted onto the end of the trailer that goes onto the ball.

Q: My bike mount moves around in my hitch, is this normal?
A: Yes, if it didn't move around it would be too hard to put in and out of the hitch. There are anti-rattle devices which help stabilize the bike mounts, ball mounts, and cargo carriers.

---
7-way connector wiring diagram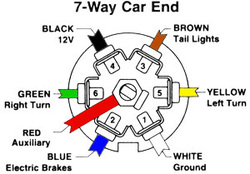 Has rectangular holes (referred to as spade terminals) for plug instead of circles. The circular holes are for a 7-way round pin connector.

*Note*
The information on the inside of the plugs is outdated and will say different information. This other information is wrong do not follow it otherwise your wiring will not work properly.
---
---
6-way connector wiring

The same colored wires should be plugged into each other.
---
---
7-Way Round pin connector wiring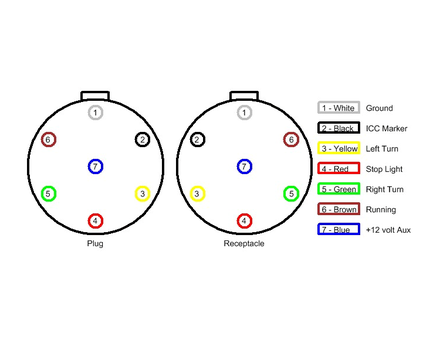 The other 7-way will have rectangles instead of circles for plug to go into.
---
---
4-Way flat connector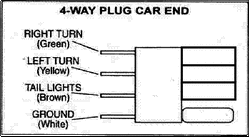 4-way plugs are used in trailers that do not have brakes on them.
---